At Codelco's Gabriela Mistral Division:
Denmark's Prince Frederik Visits World's Largest Thermosolar Plant
Viernes 15 de marzo de 2013
The Pampa Elvira Solar plant will produce 51,800 MWth (Thermal Megawatt Hours), allowing for the replacement of 85% of the diesel fuel that the Gabriela Mistral Division currently uses in its copper electro-winning process. The plant offers an energy solution that is cheaper and cleaner than diesel, in constant supply, and whose price is stable.
Sierra Gorda, March 15, 2013.- Denmark's Crown Prince, Frederik, his wife Princess Mary of Denmark, and the country's Foreign Minister, Villy Sovdal, visited the Pampa Elvira Solar project today, a project developed by the Chilean-Danish consortium Energía Llaima and Sunmark to supply renewable energy to Codelco's Gabriela Mistral Division in Chile's Antofagasta region.

In this first visit to Chile, Prince Frederik visited this project in the field, partook in the setting of its corner-stone, and was honored with a plaque memorializing his visit. During their trip, the royal entourage was accompanied by Chilean Minister of Mining Hernán de Solminihac, Chairman of Codelco's Board of Directors Gerardo Jofré, and CEO of the Gabriela Mistral Division Claudio Olguín, along with other Codelco executives and employees and Energía Llaima and Sunmark executives.

The thermosolar plant, which is still under construction, uses cutting-edge Danish technologies and is the only such plant in the world with these characteristics and proportions, with a total collection surface area of 39,300 m2—2,620 solar panels, each with a surface area of 15 m2—and a hot water storage tank with a volume of 4,000 m3. With this initiative, Codelco advances in carrying out its Sustainable Development Policy by incorporating economically efficient non-conventional renewable energy into its operations, increasing the reliability of its operations, and reducing its emission of greenhouse gases.

The investment in this project is approximately USD 23 million to USD 26 million, which will be financed by Energía Llaima-Sunmark through a project finance deal structured by Banco BCI. Gabriela Mistral will provide the land for the plant's construction in the form of a gratuitous loan.

New Energy for the Mining Industry – Fixing the Cost of Energy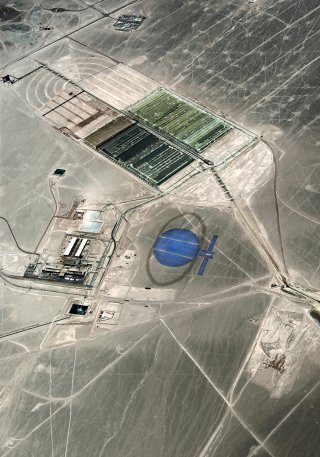 Pampa Elvira Solar will produce 51,800 MWth annually, which the Gabriela Mistral Division will use for its electro-winning copper process, allowing for the replacement of 85% of the diesel fuel that it currently uses in said process. Furthermore, this represents significant cost savings and an important reduction in greenhouse gases equivalent to 15 thousand tons of carbon dioxide per year.

Reducing diesel consumption will avoid the annual mobilization of 250 trucks that transport said fuel, in turn, effecting a positive impact via less traffic and greater highway safety.

"This project manages to generate new and clean energy for the Gabriela Mistral Division, which shows our commitment to sustainable development, and enables us to significantly reduce our operating costs. We are very excited to start this project, developed in conjunction with the Energía Llaima-Sunmark consortium, which will place Codelco on the cutting edge in the use of non-conventional renewable energies, combining the region's solar resources with copper production," informed Claudio Olguín, CEO of the Gabriela Mistral Division.

The plant guarantees a continuous supply of energy thanks to its heat storage tank, which mitigates daily fluctuations in solar radiation. Likewise, the consortium will be in charge of operating the mine's current diesel-powered heating system that will remain as a backup, guaranteeing a reliable supply.

Innovative Model

This project, able to consistently supply heat at a stable price, allows the copper company to plan, in the long-term, its energy costs at a fixed price and to avoid fluctuations in fuel prices. The plant will begin its operations in the second half of this year.

Pampa Elvira Solar is Energía Llaima-Sunmark's first project, born of the strategic alliance between the Chilean and Danish companies to supply energy to the mining industry through thermosolar panels. It offers a comprehensive service by heading the investment, construction, management, and maintenance of the plant.

Ian Nelson, General Manager of Energía Llaima affirmed, "With Pampa Elvira Solar, the first project is born. We hope this is the first of many projects with which this Chilean-Danish alliance provides a new source of energy for the mining industry, in Chile and throughout Latin America, that will solve the problems of high dependency upon fossil fuels, their environmental consequences, and the permanent rise in costs."

Andrés Alonso, Codelco's Manager of Energy and Hydrological Resources, stated, "We are very proud of this project, which was at the top of the list of renewable energy projects for our operations. Just last year, Codelco opened its first photovoltaic industrial plant in South America. Today, we are setting up the largest thermosolar plant in the world."

On another note, Hans Grydehøj, CEO and co-founder of Sunmark, stated, "For us, as Danish citizens, it is a great honor to receive the support Prince Frederik and Princess Mary provided in visiting us and seeing the project firsthand. We are very happy and enthused to bring Danish technology to Chile and share all of our experience around the world, together with our partner Energía Llaima.

Project History

In 2011, Codelco convened an international tender for bids for this project. This process was finalized in 2012, and the project was awarded to the Chilean-Danish consortium Energía-Sunmark.

The consortium stands out for its extensive experience in designing and creating large-scale thermosolar plants through its Danish partner Sunmark. It has 22 years of experience in small-, medium-, and large-scale solar projects in Denmark, Norway, Netherlands, Vietnam, Thailand, Austria, Spain, Portugal, Japan, and Singapore, with more than 210,000 m2 installed throughout the world.

The tender process was aided by the technical counsel of Universidad de Chile's Centro de Energía (Energy Center) and the legal counsel provided by Estudio de Abogados Carey y Cía.
Press contacts: Codelco: sandra.guijarro@codelco.cl 097891507
Energía LLaima: Carolina Romero: cromero@comsulting.cl 081992513